Why choose Corfu for holidays?
Planning some Holidays to Corfu? Amongst other things you have great weather, beautiful beaches, friendly residents and lively nightlife. But what makes a Corfu holiday really special? The island has fantastic nature, lovely biking and hiking routes, culture, and of course Corfu Town, a Unesco site. The bustling capital city of the island, with its old historical buildings, authentic neighbourhoods and hundreds of traditional shops and stores is a must visit during your holiday. 
Popular Resorts for Holidays to Corfu
The town of Sidari in Corfu caters to package holiday makers with lots of hotels, restaurants, bars, supermarkets, car hire shops and souvenir shops. This makes Sidari a perfect choice for those that want to stay close to their hotel or apartment, whilst having many places for for lunch, dinner or evening drinks nearby.

Sidari Beach is arguably one of the best beaches on the island of Corfu. Sidari Beach is a 500m stretch of Blue Flag sand and shingle. The calm, shallow waters are perfect for swimming, especially if you are travelling with children. In addition there are ample water sport activities to choose from. Try Parasailing, go diving or enjoy a ride on the banana boat. The beachfront is lined with shops and restaurants.

Sidari Nightlife

Sidari offers a wide selection of evening entertainment, with live music, Greek dancing, plate smashing or even Karaoke. There is also plenty of cocktail bars and even some clubs that are open late into the night. That doesn't mean that it's no good for families or older people. No matter what you're looking for, entertainment wise, Sidari has you covered.
Search for Holidays to Corfu in Sidari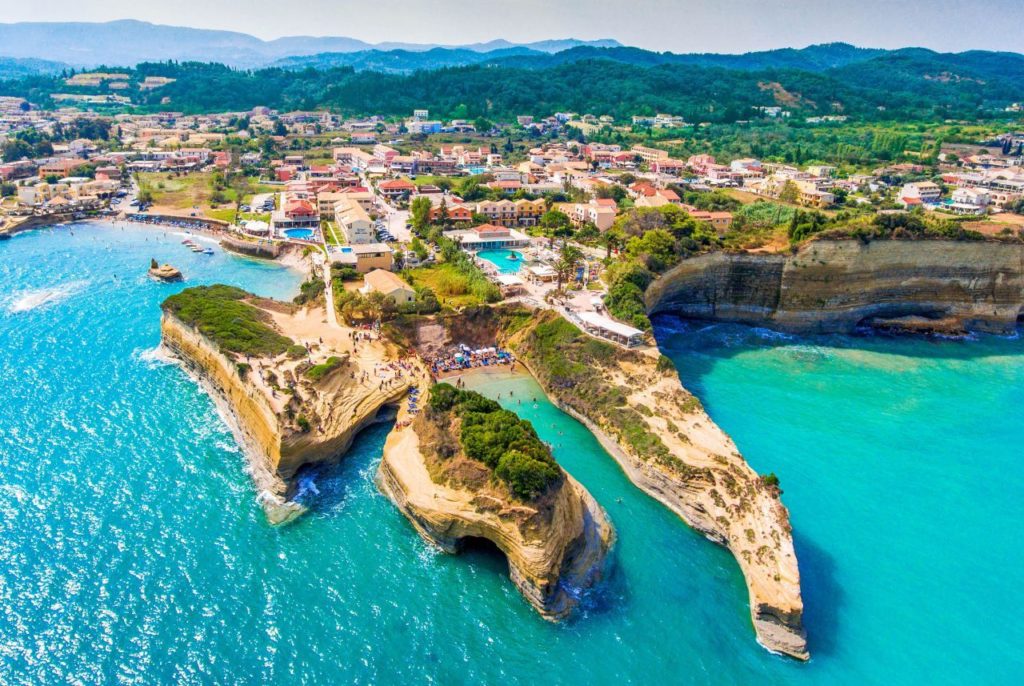 Kavos is the main 18-30 resort on the island of Corfu. If you're in your late teens or twenties and cheap all-night partying is your scene then look no further. Kavos also has some of the cheapest accommodation on the island and is one of the most popular resorts for cheap holidays to Corfu.
There's one main strip in Kavos which has many off-roads hosting bars, restaurants and hotels all within a kilometre. The beach is adjacent to The Strip rather than leading down to it like other resorts. The main Kavos Strip is the place to be for the nightlife and clubbing atmosphere.
Kavos is a resort full of lively bars up and down The Strip with clubs Future and Atlantis being nearer the top. The partying goes on until the early hours of the morning then most clubbers will end up either in JCs, on the beach watching the sun come up, or a kebab house!
Search for Holidays to Corfu in Kavos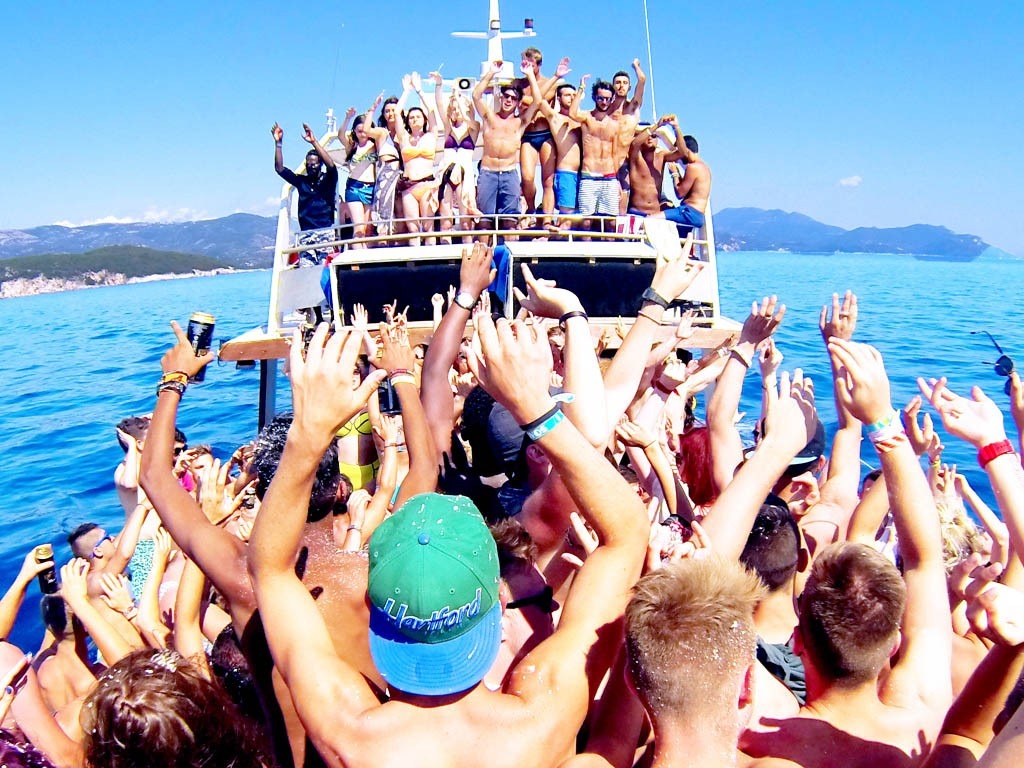 Recommended Hotels and Apartments in Corfu
Kassiopi is one of the main resorts on Corfu yet manages to retain something of a traditional fishing village feel. It's a lively resort with four beaches boasting breathtaking views across to Albania. They're all rocky or pebbly, but the main one, Kalamionas, is a Blue Flag beach. It gets windy in the afternoons, though this often comes as a relief on a hot, sunny day.

You can rent sun loungers and umbrellas, with a café and taverna for the all important drinks and snacks. Along the coast you've got smaller, more secluded beaches to explore as well. There are plenty of cafes and bars around the main harbour to keep you entertained in the evening.

By day, explore the traditional harbour, overlooked by a Byzantine fortress, and by night, you'll be surprised by the huge choice of pubs and clubs.
Search for Holidays to Corfu in Kassiopi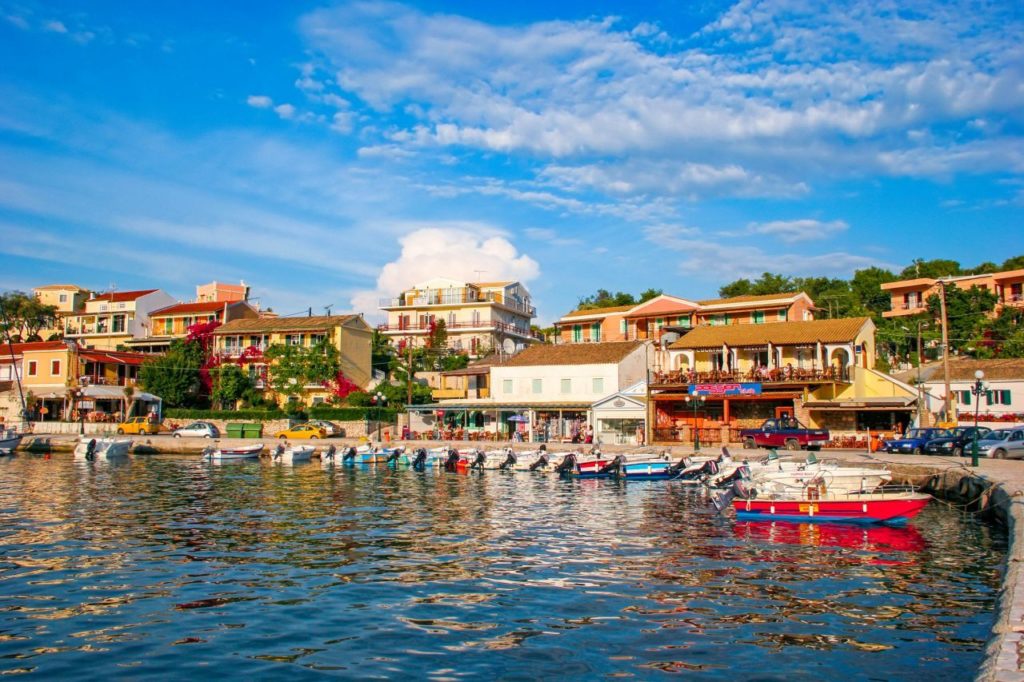 On Corfu's northwest coast is a haven of natural beauty, situated in a lush valley with a long curved coastline and a backdrop of pine trees and olive groves. Agios Georgios itself is little more than a village, consisting of just a few houses, hotels, shops and restaurants and oozing with old Greek charm. Agios Georgios is perfect for couples and families who want to escape the crowds.
The 5km beach at Agios Georgios is a horseshoe shaped bay and is one of Corfu's prettiest beaches, making it a great choice of resort for Cheap Holidays to Corfu. 
The main downside of Agios Georgios is the fact that it's a long way from most of the islands other major towns and villages as well as tourist attractions which are largely in the north of the island. 
Search for Holidays to Corfu in Agios Georgios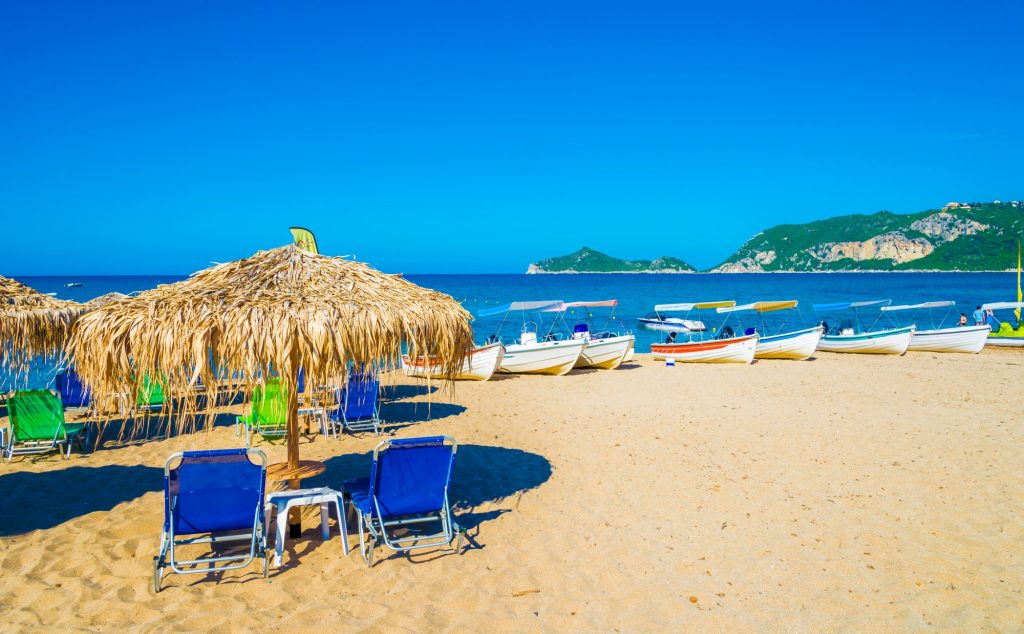 Ipsos is arguably one of the most developed areas in Corfu located 15 km from the main town. It is  a good choice for families with teenagers as they can enjoy the more lively parts of the resort whilst mum and dad can enjoy the quieter areas. The picturesque fishing port that lies on the left side of the beach hosts several boats during the day. The road directly behind it is quite noisy displaying numerous tourist shops, mini-markets, bars and cafes. The beach offers a perfect view to Mount Pantokrator.

There's pubs and bars for those that want to go drinking in the evening but also nice restaurants for those that just want to relax with a nice meal.
Search for Holidays to Corfu in Ipsos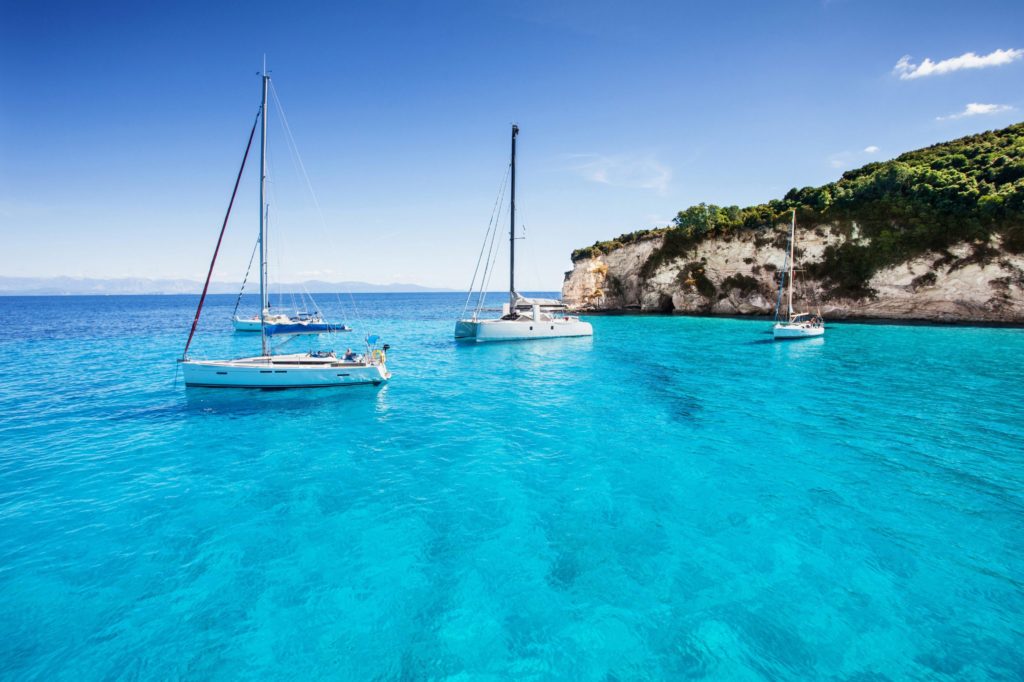 Holidays to Corfu - Things to do
The name Corfu, meaning 'peaks', referring to its twin hills, each topped by a large fortress built to withstand sieges. Sitting between the two, the Old Town is a tight-packed warren of winding lanes, some bursting with fine restaurants, lively bars and intriguing shops, others timeless back alleys where washing lines stretch from balcony to balcony. It also holds some majestic architecture, including the splendid Liston arcade, and high-class museums, along with no fewer than 39 churches. The old town is a must visit on your Cheap Holidays to Corfu.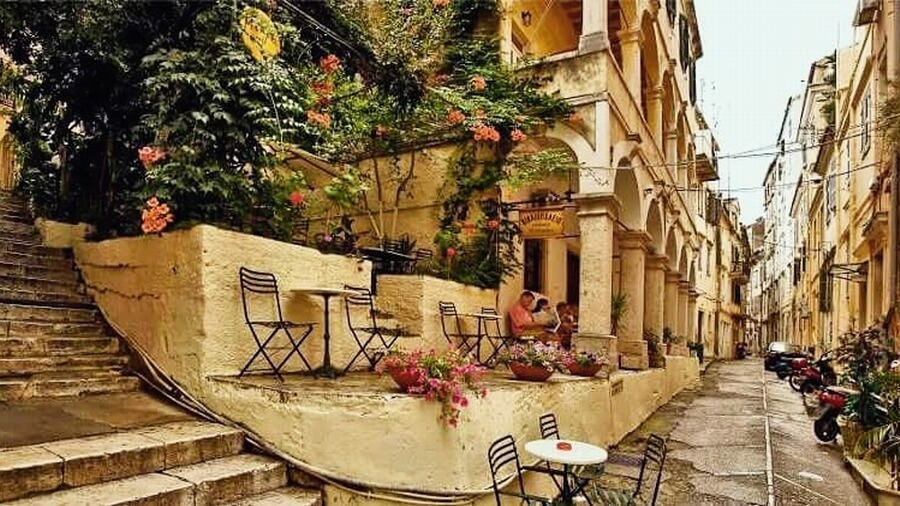 Take a boat trip to discover hidden coves and beaches. There are many different boat trips available ranging from romantic, lazy cruises to party trips, there's an excursion for everyone. Sidari is a good spot to start your boat trip from, although they are available from most bigger Corfu coastal towns.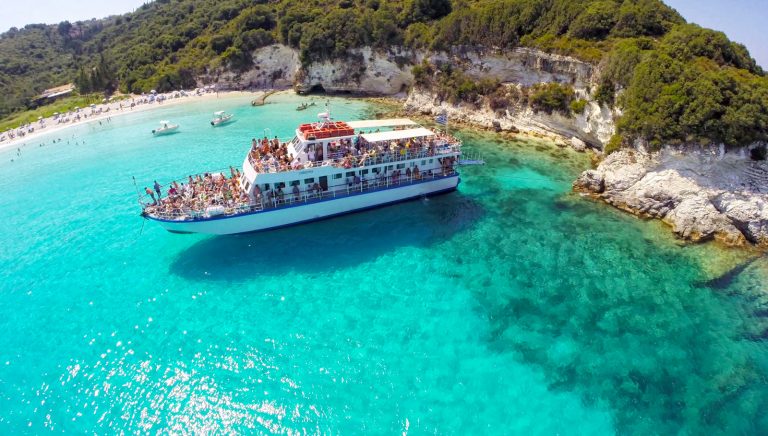 Wander around Vlacherna Monastery
Located around three kilometres south of Kerkyra city on Corfu island, Vlacherna Monastery is one of the most photographed places in Corfu, appearing on the cover of many travel guides. You reach it by crossing a small bridge that joins it to the land. The picturesque convent was built in the 17th century, is dedicated to the Virgin Mary and is still in use.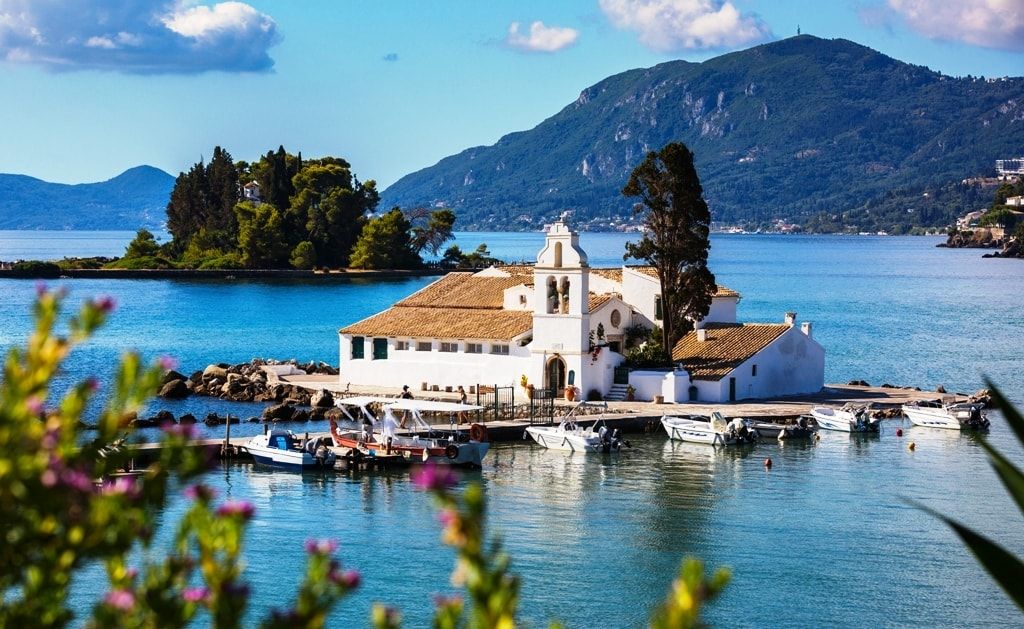 Propose at Canal d'Amour Beach
Make your Corfu Holidays special! The Channel of Love also known as Canal d'amour is probably the most famous and most special beach on the island of Corfu. It is situated between the villages Sidari and Peroulades. 
The naming of Channel of Love comes from the tradition that all couples swimming there remain in love forever.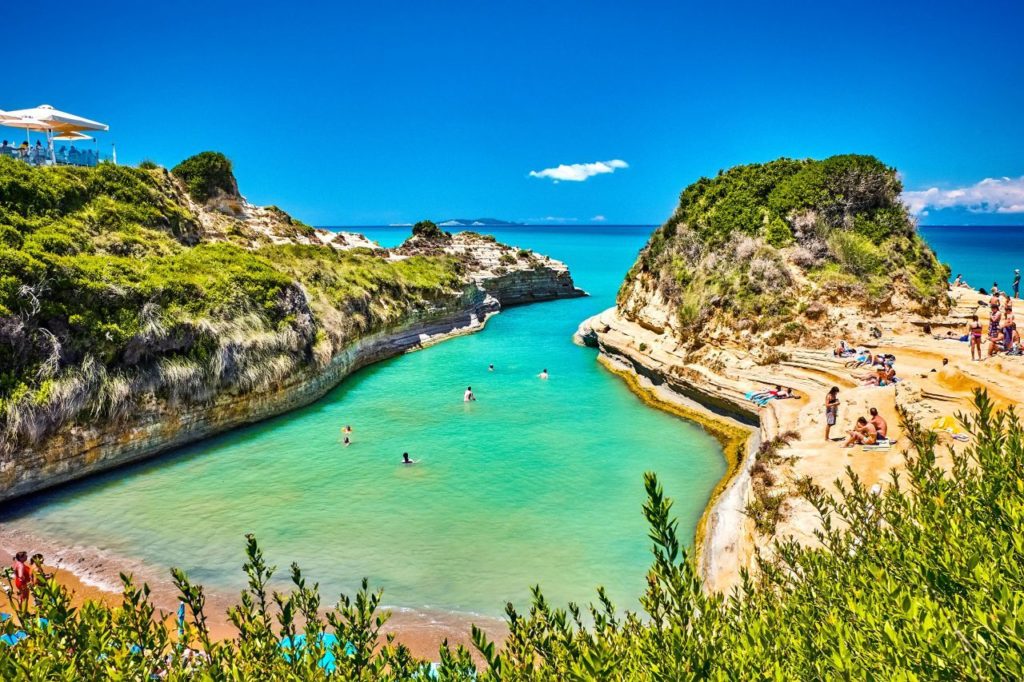 Visit the Achilleion Palace, Corfu
Achilleion Palace was built in 1890 by Empress Elizabeth of Austria. The entrance is decorated with many statues and columns, two centaurs decorate the balcony on the first floor and four brass Mice guard the balcony of the second floor. The columns are statues of gods and philosophers.

Today it is a museum, historical site, and conference center.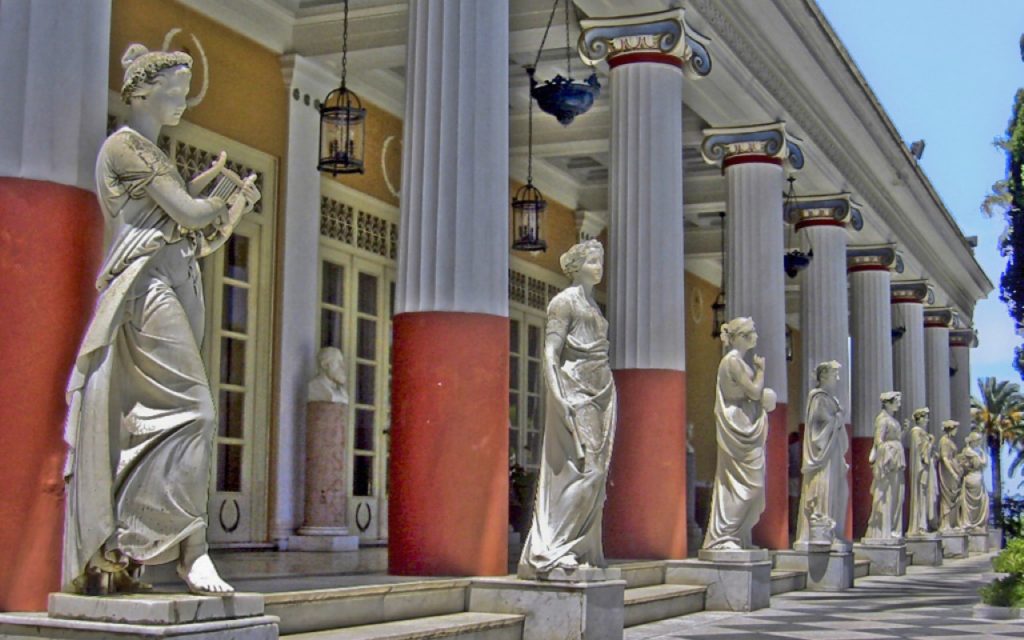 ARE YOU LOOKING FOR HOLIDAY DEALS FROM YOUR LOCAL AIRPORT?