Why choose Lanzarote for holidays?
Are you looking for holidays to Lanzarote? Lanzarote one of the Canary Islands is best known for its beaches, volcanic landscape and its year round warm weather.
Spend your evenings tasting the Mediterranean dishes and locally produced wine. Relax on one of Lanzarote stunning beaches. There is something for everyone in a Lanzarote Holiday.
Popular Resorts for Holidays to Lanzarote
There are 5 main beaches in Costa Teguise which run along the seafront promenade, they offer white golden sand. Playa Cucharas is the most popular and much appreciated by wind surfers. Bastian beach is ideal for families as it is easy accessible and protected from the wind. The horses shape beach Jablillo is great for swimmers. Playa Los Charcos is the most exposed of all the beaches. Playa Ancla beach is a locals favourite and is off the beaten track, a short distance from Costa Teguise.

Costa Teguise has the only water park in Lanzarote which is a 10 min walk from Pueblo Marinero. It is opened daily from 10.00 to 18.00. The resort is home to the only aquarium which isn't on the grandest scale but it is a great family day out.

A fun past time in this resort is windsurfing with visitors and locals. In Las Cucharas there are windsurfing schools, shops and equipment rental scattered around the beach. All levels welcome.

The oldest golf course on the island is in Costa Teguise, where you can enjoy 18 holes in the sunny weather.

Nightlife on the island is in the hub of Puerto del Carmen, if your looking to dance into the small hours of the morning. Costa Teguise is quieter but still offers loads of bars and restaurants.

The best restaurants are located in the Playa Bastian area of the resort with El Navarro, Isla Bonita and Oscars highly rated.
Search for Holiday Deals to Costa Teguise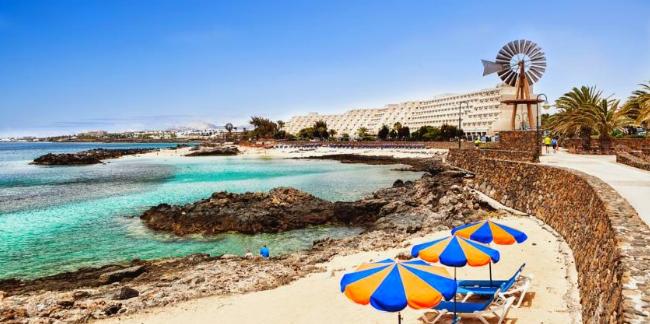 Puerto Del Carmen, Lanzarote
Puerto del Carmen is the lively hub of Lanzarote. It's a Party animal heaven. The promenade doubles up as the main strip, where it is packed with bars, restaurants which overlooks 3 beaches. Playa Grande beach has a European Blue flag award for the quality of the seawater and services offered, which include toilets, lifeguards and a children's playground. It is ideal for families due to the calm sea and close to restaurants and shops.

Playa Chica beach is cosy and small and it is close to the old town of Puerto del Carmen. It offers excellent conditions for diving and swimming. Divers love here due to the breathtaking underwater scenery, sunken wrecks and manta ray. There is also a Shrimp Cave to explore.

Los Pocillos is located between Hotel San Antonio and Jameos Playa and is the second longest beach in Puerto del Carmen. This beach is perfect for windsurfers or water sports beginners as it is equipped with shoes, bathrooms, sunbeams and umbrellas.

The water here is very safe. It is ideal for people with reduced mobility as there is an amphibious wheelchair so they can take a dip in the sea.

Matagorda Beach This is a pretty beach but usually there is a constant breeze. It makes it a popular spot for windsurfers and surfers. It has a sun bed service with parasols. After a day at the beach there is a selection of restaurants and shops to choose from.
Search for Holidays to Lanzarote in Puerto del Carmen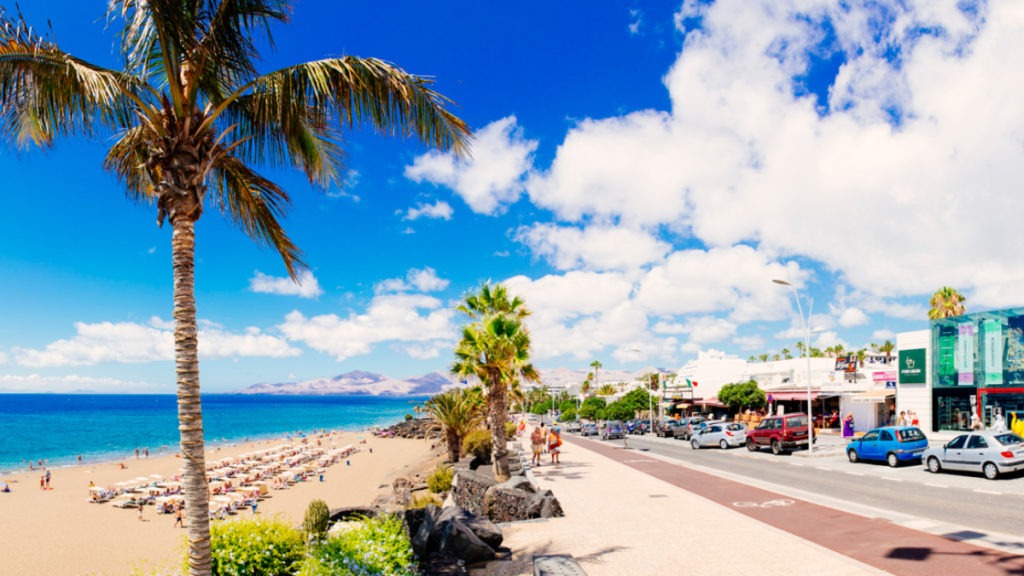 Recommended Hotels and Apartments in Lanzarote
A short distance from Puerto del Carmen is Puerto Calero, the luxury millionaires side of Lanzarote. This area was only build in the eighties to give holidaymakers a luxury side to their holiday in Lanzarote. From its glossy marina nicknamed Millionaires harbour, lots of luxury yachts sparkle in the mid day sun. You can take a stroll around the marina or enjoy the view from one of the lovely restaurants.

Puerto Calero offers a lovely market on a Tuesday and a Friday morning at the marina which tourist love to enjoy at a leisurely pace. From hand painted crafts, jewellery and lots of seafood.
Search for Holidays to Lanzarote in Puerto Calero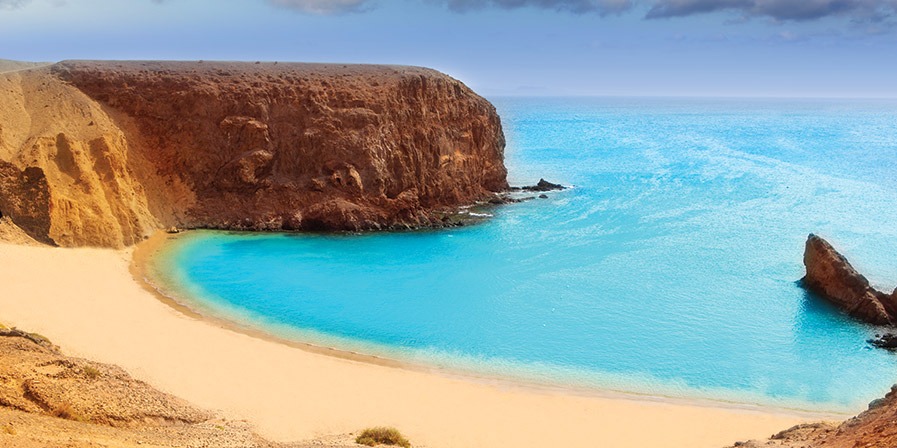 Playa Blanca is a tourist magnet with its white pristine beaches, yet still retaining its village charm. Awarded on various occasions for its beauty, the peaceful resort is ideal for the whole family. It is close to Papagayo beaches where white sands and crystalline waters are a must see.

A few minutes from Playa Blanca is Timanfaya National Park, this is a must for every visitor. This spectacular volcanic landscape covers a quarter of the island. El Golfo is another great find as it is famous for the Charco de Los Clicos (green lagoon). Enjoy a delicious local fish lunch overlooking the sea. The location made famous by Penelope Cruz in the film Broken Embraces. From Playa Blanca you can ferry across to the neighbouring island of Fuerteventura which takes 25 to 35 minutes.
Search for Holidays to Lanzarote in Playa Blanca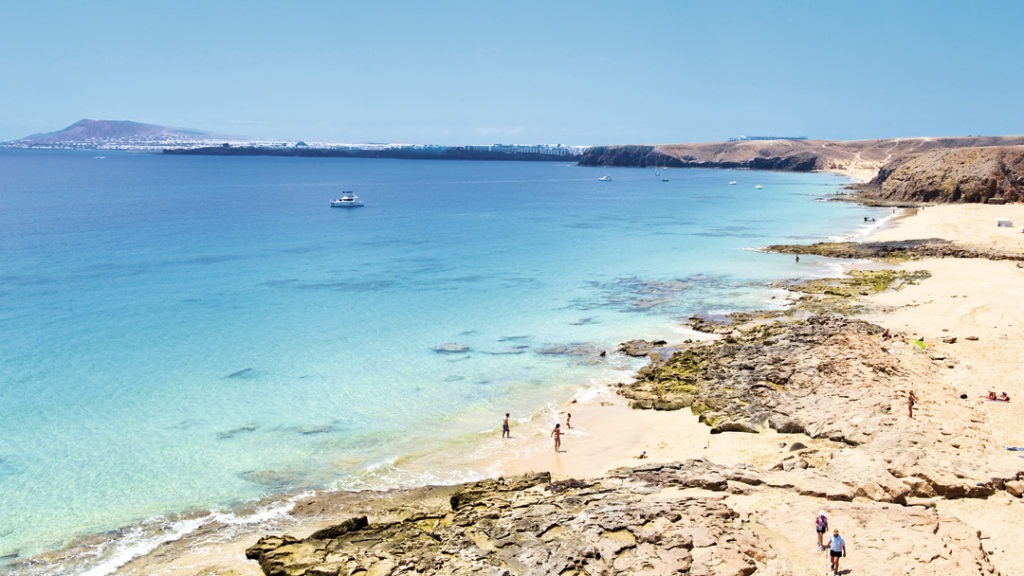 Holidays to Lanzarote - Things to do on
Timanfaya National Park was caused by a period of eruptive volcanic activity. There is a restaurant inside the park called El Diable, which offers panoramic views of the surrounding landscape.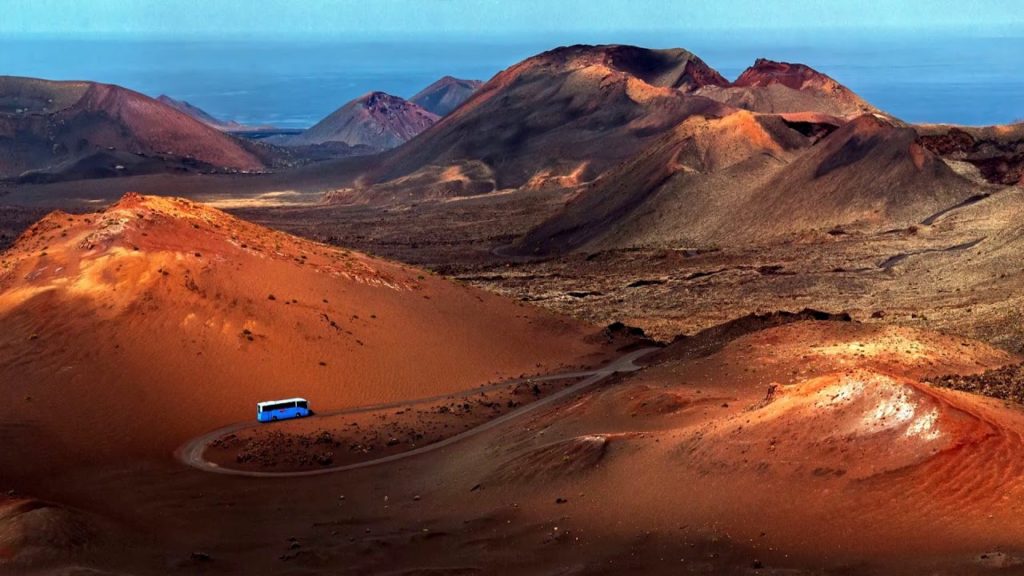 Mirador del Rio, Lanzarote
The view from Mirador del Rio is magnificent over the small island of La Gracious. It is situated above sea level and built in the architect Cesar Manrique own style. There is a cafe and a boutique
shop which you can enjoy the views while enjoying your coffee.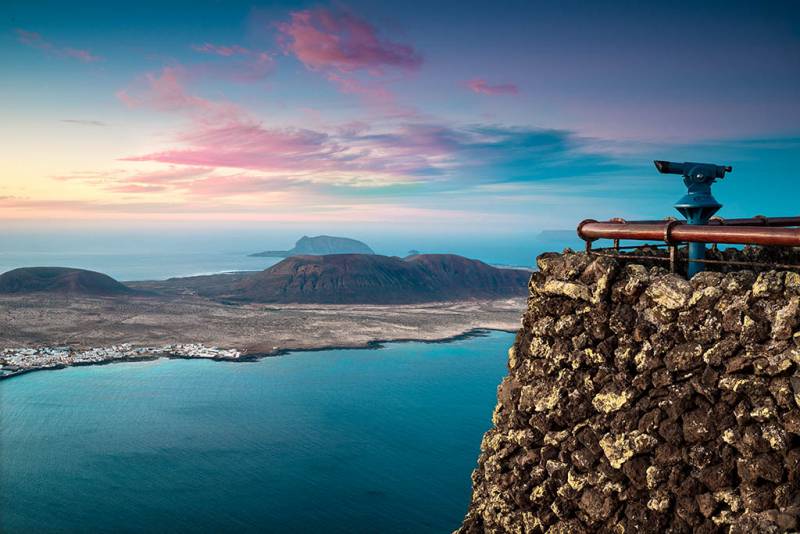 Lanzarote is famous for its white sand and abundant marine life. Scuba diving here offers you ship wrecks for you to explore. Enjoy at your own leisure or sign up to one of the many schools on the island.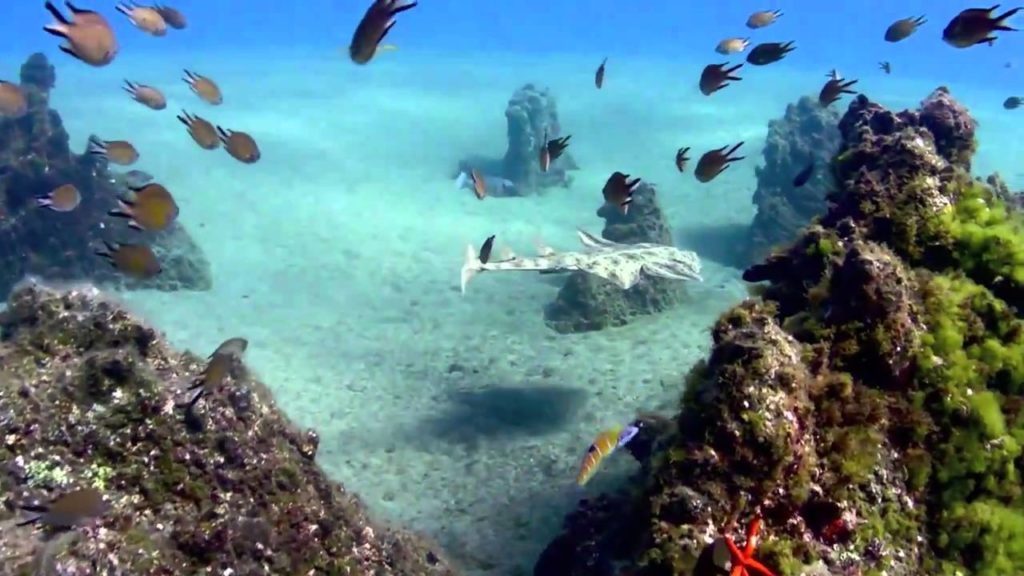 La Cueva de los Verdes is a lava tube about four miles long. Formed thousand of years ago when the volcano Monte Corona erupted. The tunnels where formed when streams of lava hardened on the outside but continued flowing on the inside. One mile of the caves are opened to visitors. This is a memorable place.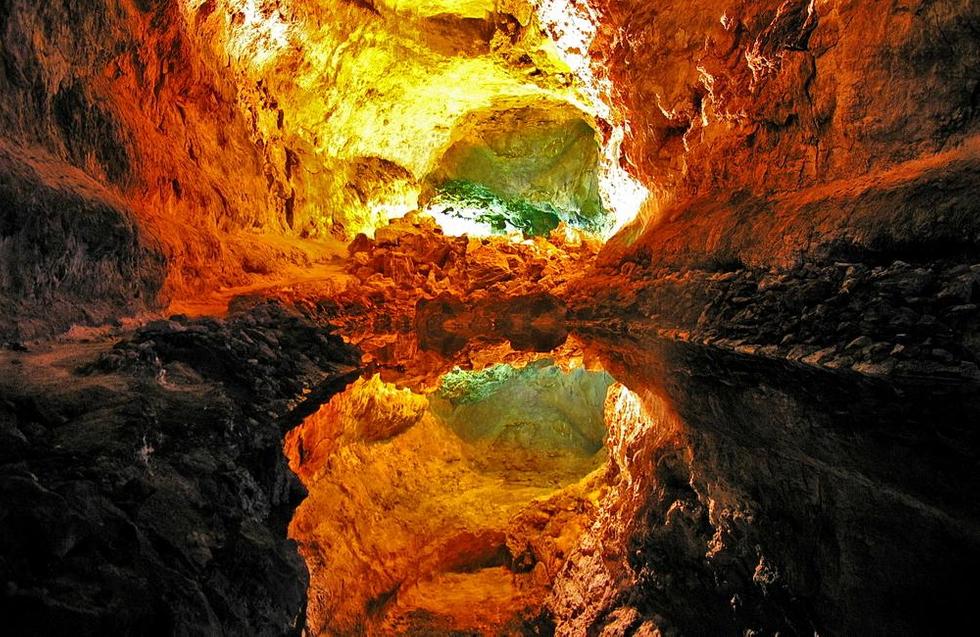 Every Sunday in the Plaza Clavijo, you can enjoy the Teguise Market. You will find a bit of everything from locally produced cheese, wine, imported trinkets to clothes, fruit and vegetables. A great place for gifts back home.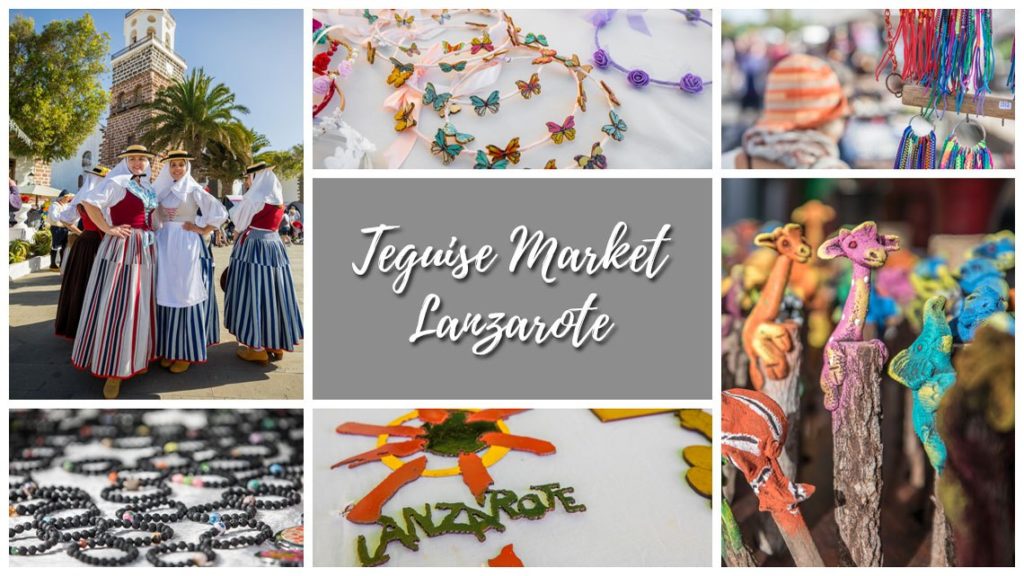 This incredible building was designed and built by artists and architects Cesar Manrique and Jesus Soto. It is built around a cliff of hardened lava rock. Stay and watch the sunset paint the rocks red.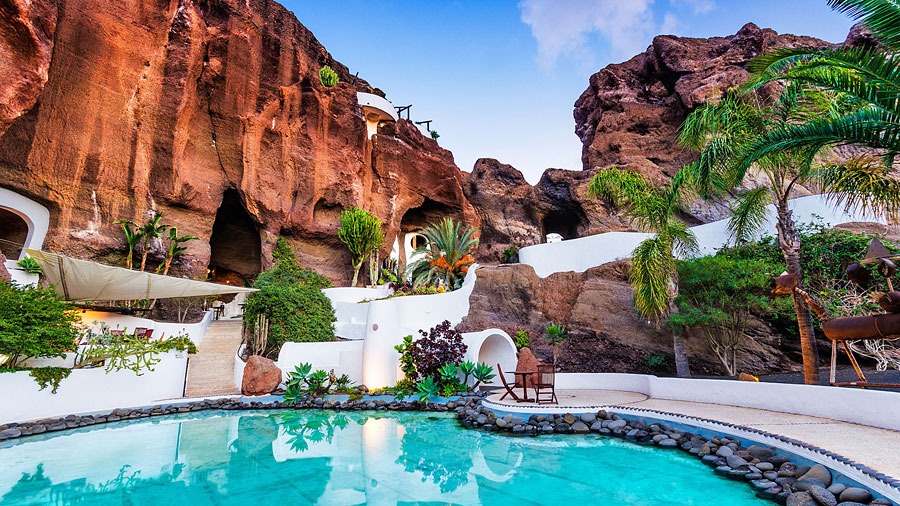 Lanzarote produces some excellent wines. There are some organised tours which you can sample the wines.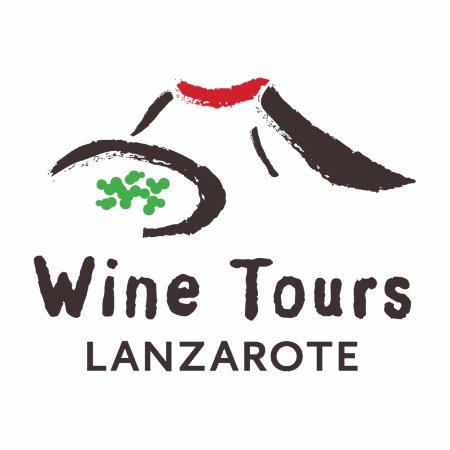 ARE YOU LOOKING FOR HOLIDAY DEALS FROM YOUR LOCAL AIRPORT?